Сlimate Launchpad - Green Entrepreneurship

Follow now the world's largest cleantech business idea competition!




What is all about?
ClimateLaunchpad is the world's biggest clean-tech business idea competition.The competition is organised in 27+ countries this year and for the second time in Moldova! It offers great benefits starting with a 2-day Business Boot Camp and 6 dedicated Coaching Sessions to get prepared and participate at the National Finals and win prizes. The Top-3 of Moldova National Final get a chance to go in Estonia and pitch their idea in front of the review board of Climate-KIC Accelerator and win up to 10.000 EUR and gain access to Climate-KIC Accelerator - the 18-month real life business school where great ideas grow into great businesses.
This competition is a chance to pitch your idea in front of renowned national and international juries. A chance to be a part of a platform on which to thrive and really grow!
Who can enter the Climate Launchpad Competition?
Early start-ups, SMEs, a team of researchers, students, public organisation, consultancy, engineering company or a combination of these.
What kind of ideas this competition is looking for?
If you have an idea, or are an early stage start up with a climate impact proposal, we encourage you to apply. This green idea can be about an all out mind shift in urban mobility, a sustainable transition in the food chain or any other way to tackle climate change. It does not need to be high tech, but it does need to have a positive impact on climate and environment.
What happens after submitting my idea?
Our National Juries select the best proposals to join the National Competition. Those that are selected will move along 3 steps:
Step 1: Boot Camp
Business bootcamp Moldova - 3-day fast track course and workshop delivered by EcoVisio Moldova together with Frans Nauta - Climate-KIC international business coach and the founder of ClimateLaunchpad! Learning all aspects of a high-level pitch deck.
Step 2: Intensive coaching and National Final

On August 20, ClimateLaunchpad National Final Moldova took place at Jolly Alon Hotel & Business Center. Teams pitched their cleantech business ideas to tackle climate change in front of a 5-member jury with expertise in technology, sustainability, renewable, entrepreneurship and public speaking. The jury selected the 3 best teams that will represent Republic of Moldova at ClimateLaunchpad European Finals to be held on October 7&8 in Tallinn, Estonia where they will pitch together with other 87 finalists from all over Europe.
And the winners of ClimateLaunchpad National Final Moldova are:
1st place - Air Solaris COOL (Cristina Eni&Corina Gaibu)
2nd place - Horizons of Biomass (Alexandru Munteanu&Eugen Munteanu)
3rd place - Robot and Renewable (Ivan Rabei)
Finalist Nominations:
@Best Picth - EcoBag (Adelina Gîrlea&Alina Herța)
@Best Design - Free Energy Tree (Alexandru Garabagiu&@Anastasia GL Lepilova&Xenia Golovițcaia)
@Best Climate Impact - Waste to Energy (Valentin Akbıyık&@Taya Kamenschik)
Public's Favorites: Air Solaris COOL&EcoBag
Therefore we would like to thank very much the coaches that trained and supported all teams along their journey and members of the jury, who have reviewed and selected the successful teams!
The members of the jury were:
Olesea Solpan Fortuna - GEN Moldova - Global Entrepreneurship Network Moldova
Iulian Gulea - Entrepreneur
Ion Cozma - Acting Director - Agency for Energy Efficiency
Ilie Dercaci - Professional Speaker
Naomi Zeilemaker - Climate Kic
Step 3: European Final – Tallinn, Estonia
The Top-3 of Moldova National Final got a chance to go in Estonia and pitch their idea in front of the review board of Climate-KIC Accelerator and a huge public together with other 87 teams from other 29 countries. We enjoyed two days among so many creative minds gathered all together in 1 room, all focusing on businesses that tackle climate change. It was a both thrilling and exciting atmosphere!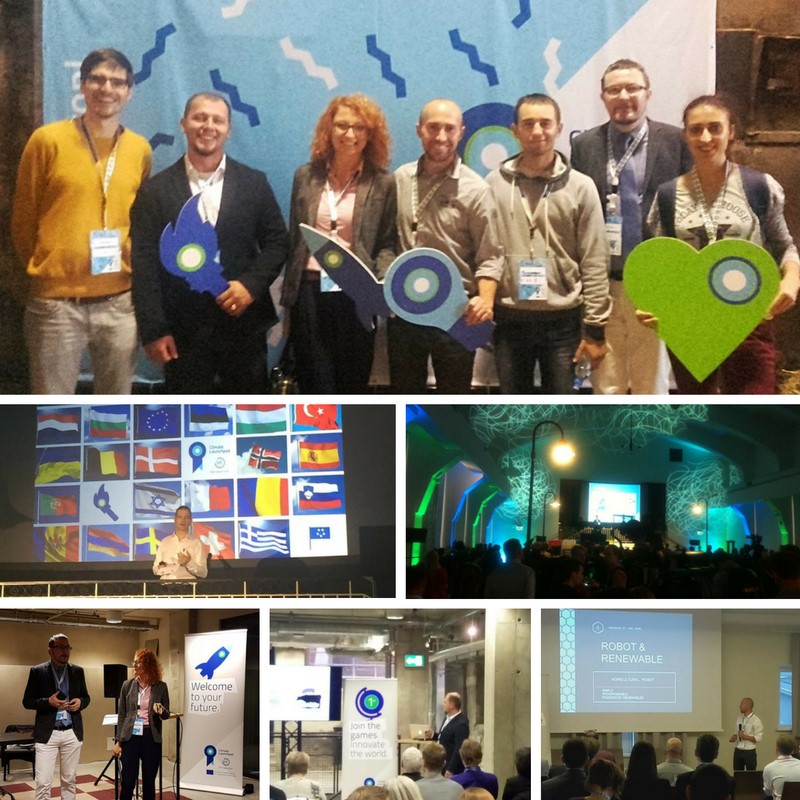 So who were the winners of the 2016 ClimateLaunchpad?
1st Place: Gleather from Estonia. Gleather is a gelatin based leather-like material that is half the price of leather. Its production uses a miniscule fraction of the water and toxins currently used by the leather industry.
2nd Place and Audience Award:

Sponge

from Turkey. Sponge is a product that can be used to both prevent oil spills and safely absorb contaminants from the ocean.
3rd Place: Chrysalis from England. Chrysalis has a technology that enables companies to turn any kind of woody material into feedstock for commodities. Their process can make use of even the most contaminated waste wood, which can't be recycled and is typically sent to landfill where it poses an environmental hazard.
All three winners were women-led companies. Given the strong showing of female founders, Frans Nauta stated:
"It's great to see ClimateLaunchpad bridging the gender-gap around entrepreneurship and technology."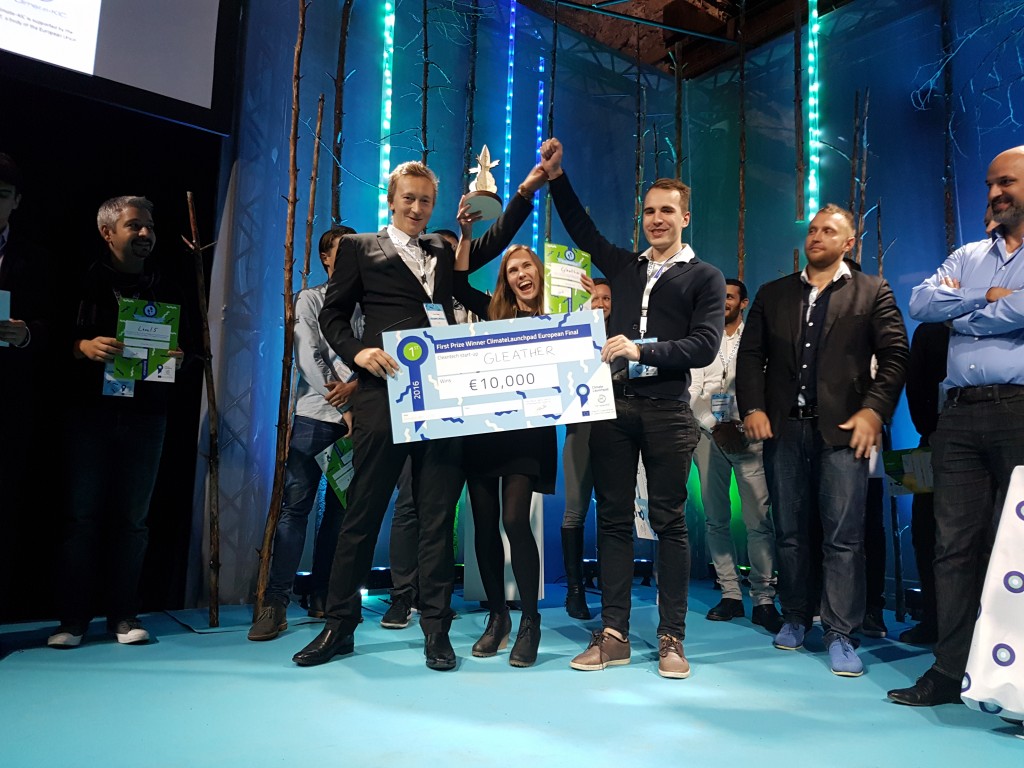 The European Top-10, selected in the Grande Finale, got direct access into Climate-KIC Accelerator without having to pitch to a review board.
The overall winner of the European Final received € 10,000, the runner up got € 5,000 and the idea that comes in third place won € 2,500.
What's next?
We are getting ready for the next edition, ClimateLaunchpad 2017. Stay tuned.
Will YOU be on board?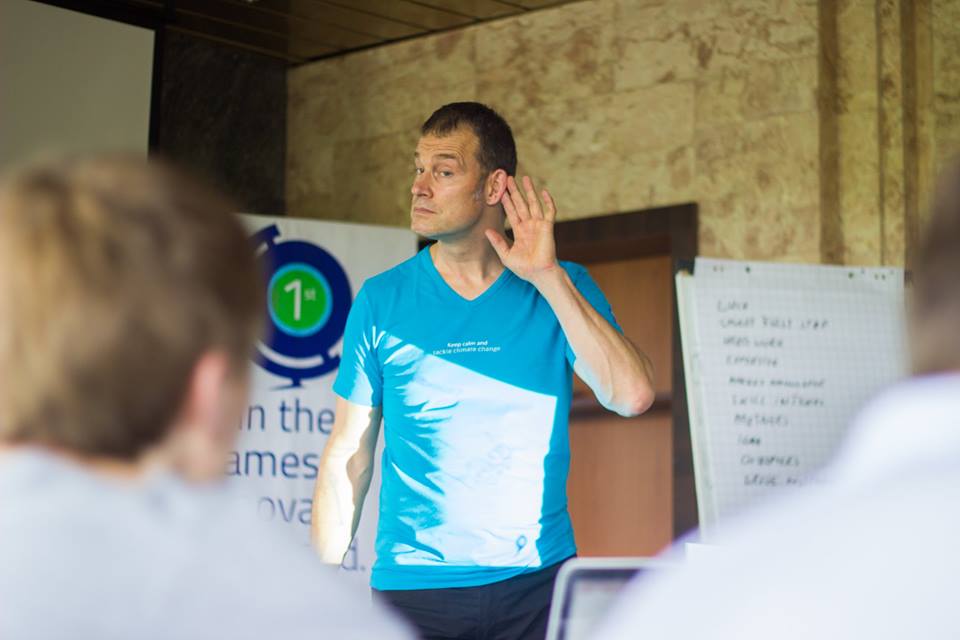 You might want to see the Climate Launchpad website for more information and FAQ.
Also, take a look and get inspired by the finalists of 2015 edition here and 2016 here.
---
ClimateLaunchpad is an initiative of Climate-KIC.
Climate-KIC is the EU's main climate innovation initiative. It is Europe's largest public-private innovation partnership focused on mitigating and adapting to climate change. Climate-KIC consists of companies, academic institutions and the public sector. Climate-KIC is one of the partnerships created in 2010 by the European Institute of Innovation and Technology (EIT), the European Union body that fully integrates the knowledge triangle of business, education and research by forming dynamic cross- competency partnerships –Knowledge and Innovation Communities (KICs). KICs develop innovative products and services, start new companies, and train a new generation of entrepreneurs. http://www.climatekic.org