Keep Cool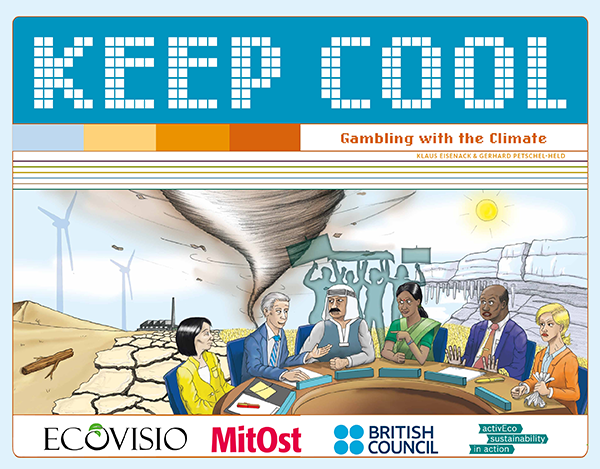 The "Keep Cool!" board game was first created by Klaus Eisenack and Gerhard Petschel-Held of the Potsdam Institute for Climate Impact Research and published by the German company Spieltrieb in November 2004. In "Keep Cool", from three to six players representing the world's countries compete to balance their own economic interests and the world's climate in a game of negotiation. The goal of the game as stated by the authors is to "promote the general knowledge on climate change and the understanding of difficulties and obstacles, and "to make it available for a board game and still retain the major elements and processes."
In 2015-2016, the game was adopted and translated, with permission from the authors, by an international team of German, Ukrainian and Moldovan activEco program alumni and members of "EcoVisio" Association, Moldova, with support from MitOst Association and British Council, Ukraine. After having played the original game many, many times, the team decided to change some numbers and rules in order for the game to be more realistic and exciting. Besides, initially, there was only German-English version of the game. Since 2016, it is available in the following versions: Russian & Romanian, English & Romanian, English & Russian, Ucrainian & Russian, Ukrainian & English.
In 2016-2017, a new edition of the game was printed in the framework of project "Dialogue for Change" - 40 more games in Russian-English version for our partner non-formal education programs in other countries.
You can download the new rules of the game below:
And the outline for a Keep Cool workshop here: Keep-Cool_Workshop-outline.pdf
Enjoy!
***
The game was played multiple times during EcoVisio events such as the Renewable Energy Day 2016; on the seminars of activEco and activePeace program; in the framework of activEco and activePeace projects - at trainings, in schools and universities; at alumni meetings; at the annual meeting of Theodor-Heuss-Kolleg coordinators, etc. - in Moldova, and at the Енерджайзер Кемп 2016, on Science Day 2016 in Kharkiv, at the EcoFest 2016 in Lviv, and at other events with support of the Society Initiatives Institute - in Ukraine. And not only.
You can find additional information about the game on www.climate-game.net (in English and German) or send your questions to / .
You can also become a member of the Facebook group: Keep Cool together: Ukraine & Moldova.
And you can enjoy some pictures of the gaming and backstage process below:
Tags: Education for Sustainable Development, Eco-Construction and Energy