activEco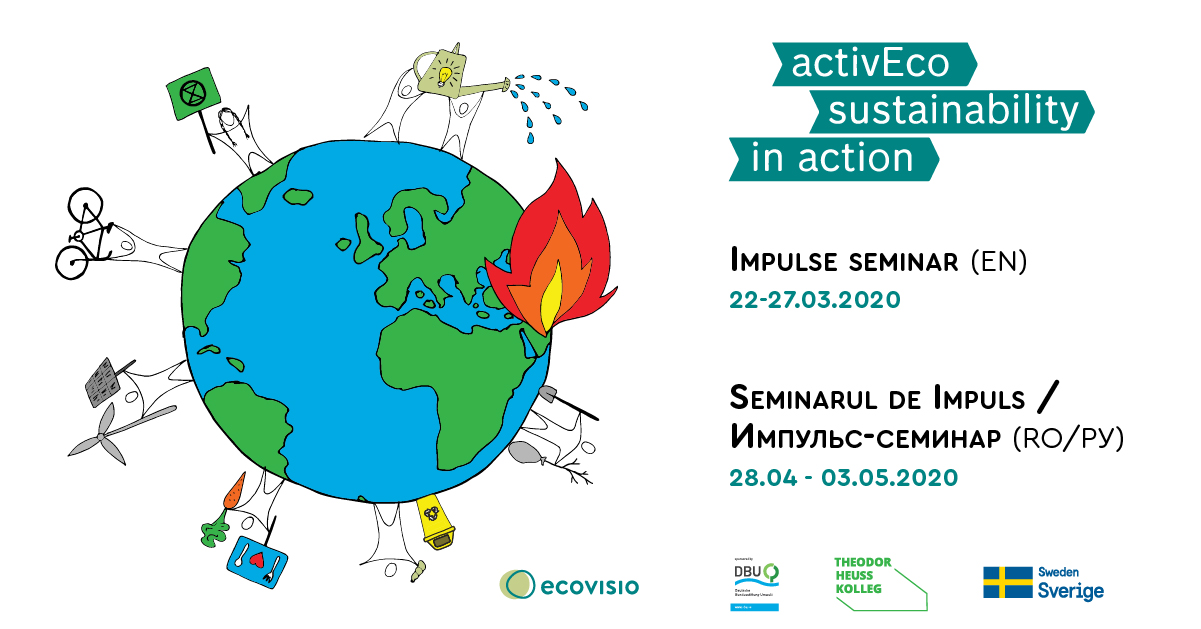 Our climate is changing, so we can too! EcoVisio is launching the 8th edition of our activEco program, empowering youth who want to become agents of change in Moldova and neighbouring regions in Ukraine and Romania.
activEco 2020 will start with a 6-day Impulse Seminar in English (22 - 27 March, Rîșcova village), where you will get a first dose of motivation and enthusiasm amongst like-minded people. In order to participate, you just need to fill in this form in ENGLISH until 9 MARCH, 11:59 p.m. - bit.ly/activeco2020
This Impulse Seminar will be fully in English, but a second one in Romanian & Russian is coming on 28 April - 03 May. The official call for participation will be out at the end of March, but you can already pre-register here - bit.ly/activEco2020-RO-RU
WHO CAN APPLY?
Anyone who's 16 - 35 year old, from Moldova or neighbouring regions in Romania and Ukraine, willing to create a better, more sustainable future together.
WHAT CAN YOU EXPECT?
After the two Impulse Seminars, activEco will have several weekend trainings throughout the year on topics such as:
Resource Saving Mobility: Biking!
Waste Prevention
Sharing Economy / Critical Consumption
Energy Efficiency + Renewables
Healthy Nutrition
Video-Making
WHAT ACTIVECO CAN OFFER YOU?
Theoretical and practical knowledge on what you can do regarding the climate crisis
Experience of working in a team and with external partners
Capacities and resources for implementing a project (including mentorship and a small grant of 100-500 euro)
A community of other environmental enthusiasts and experts!
We look forward to reading your application and meeting you in Rîșcova! Transport, accommodation and food will be covered by EcoVisio.
If you have any questions, please get in touch with Gabriela Isac - +373 698 17 235.
You can also get our latest news on Facebook here: activEco Program.
More info can be found at: www.activeco-program.org
The activEco program is organized by EcoVisio in partnership with Theodor-Heuss-Kolleg (Germany), with financial support from the German Federal Environmental Foundation (DBU) and Sweden.