EcoVisio Training Center at Eco-Village Moldova: Services of our Social Enterprise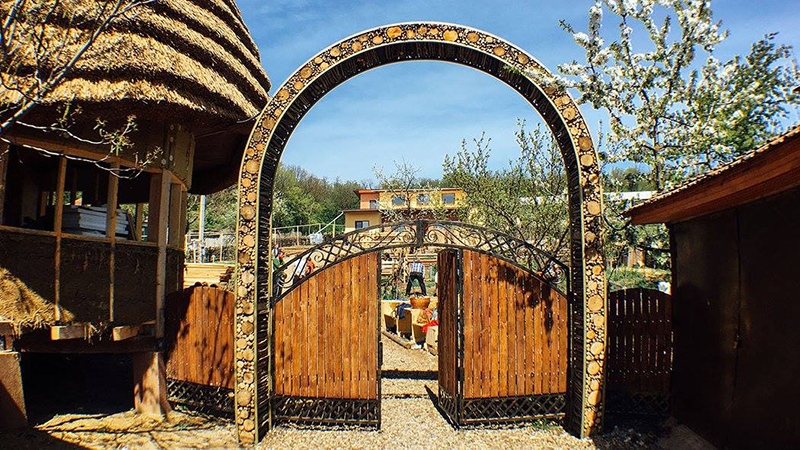 Offers and pricelist
If any profit is generated at the EcoVisio Training Center, it goes into development of the local village, supporting educational opportunities for low-budget visitors (e.g. schools) and thus expanding the training center's impact.
Logistic services
Price ranges depending on number of participants, complexity, materials needed and the financial capacity of the guests.
Training space rental

(All training spaces rentals include: foldable tables, chairs, whiteboard/flipchart stand, projector & screen and all outdoor training facilities like garden benches, pergola, etc. WiFi can be provided upon request)
1 event room for up to 40 persons -> EUR 70 - 100 per day

2 event rooms for up to 20 persons -> EUR 30 - 50 per room per day

2 event rooms for up to 12 persons -> EUR 20 - 30 per room per day

All facilities without restriction -> EUR 100 - 200 per day
Catering
(Different menu options available)
Refreshments break (hot/cold drinks and quality snacks) -> EUR 2-4 per person

Lunch / Dinner (two or three courses) -> EUR 5-9 per person

Breakfast -> EUR 3-6 per person
Accommodation
Shared room (2-4 people) or cosy dorm space -> EUR 8-12 per person per night

Single room (double bed) -> EUR 15-20 per room per night

Double room (double bed) -> EUR 20-30 per room per night

Family room (one double bed and one single bed) -> EUR 20-30 per room per night
Transportation
Mini-bus transfer from or to Chisinau -> EUR 50 per bus (20 people)

Bike rental for a local tour (village, forest) -> EUR 5-8 per bike
---
Content and group process services
Negotiable hourly and daily rates depending on number of participants, complexity, materials needed and context of the client. Other topics available upon request.
Presentations and study visits to Eco-Village Moldova
Guided tour (up to 30 min) -> free of charge upon registration 3 days in advance

Longer talks for research, interviews, etc. - negotiable hourly rate
Small practical workshops & activities
Negotiable hourly rate
Eco-construction (seasonal offers, e.g. solar fruit dehydrator or bee-hive construction, reed walls, lime plastering, cob building etc.)

Energy efficiency and renewables (how much money and energy can we save through small smart changes and sustain our energy needs in a green way)

Organic gardening (seasonal offers, e.g. permaculture design, planting, harvesting, seed collection, composting, etc.)

Fruit / vegetable solar drying and winter preservations - take away (how to make the tasty harvest last for a long time, keep its valuable nutrients and be fun)

Healthy / vegetarian / vegan cooking (learning and practicing innovative and traditional recipes for full meals, snacks, smoothies, baking)

The "magic" of herbal tea – take away (learning about special properties of herbs and creating a personalized tea mixture)

Waste reuse and recycling (creation of carpets out of scrap fabric, bins out of old flipcharts, wallets out of juice packs)

Eco-bags – take away (creation or/and personalization and colouring of fabric bags)

Outdoor & indoor team building games & activities (aimed at getting to know each other, problem solving, communication, sustainability & nature learning)

Simulation and educational board games ("Keep Cool" – climate change negotiations, "Fish Business" – sustainable economy, "Life as a project" – time management; etc.)
---
Full-range group seminars or teambuilding
Negotiable daily rate
Environmental Mainstreaming (how to strategically green up your organisation/business)

Social Entrepreneurship (what is it, how to develop and test an idea, how does it work in Moldova and abroad)

Sustainable Development for youth and adults (how to understand interconnections, environmental problems and solutions in Moldova and abroad)

Conflict management and transformative leadership (how to prevent or deal with conflicts in your group, organisation and transform them into steps of personal growth)

Graphic facilitation, scribing and visual recording (how to create strong visual flip-charts, personal notes and record group processes in an attractive way)
---
Setting up community actions and carbon offsetting
Negotiable
Tree-planting and care, clean-ups, rehabilitation of natural habitats, etc.
---
---
Contacts:
Valeria Șvarț-Gröger: +373 79710418

Liliana Botnaru: +373 69439036

training-center [aet] ecovisio.org