activEco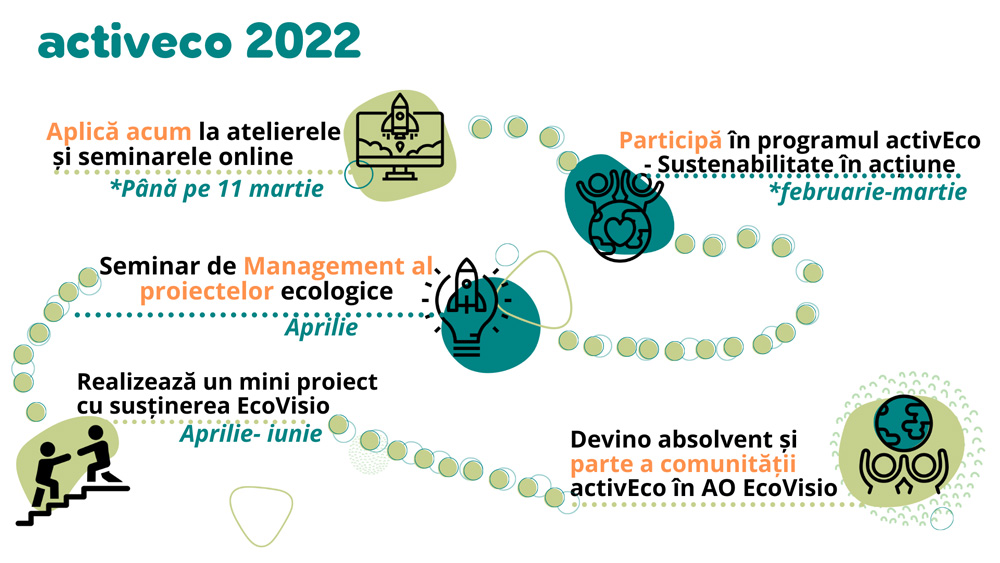 Our world is changing, so we can too! EcoVisio launched the 10th edition of our activEco program, empowering those who want to become agents of change in the region. On our workshops you will find the necessary dose of motivation and enthusiasm to make your community greener, among other people who share your values.

In 2022 activEco has two directions of work - the education of young people in action and the training of teachers on participatory methods of ecological education.

In February and March, activEco hosts online mini-courses dedicated to Energy Efficiency and Renewables, Collaborative Economy and Critical Consumption, Alternative Transportation and Waste Management. Each topic is addressed through 4 online workshops. You can apply here https://bit.ly/activeco2022-online

In April, participants will be invited to EcoVillage Moldova to conceptualize their mini-projects at a Project Management seminar. After that, they will implement them with the support of EcoVisio - until June.

If you are a teacher and want to develop your skills and attitudes related to environmental education, then you can leave your details in this pre-registration form https://bit.ly/activeco-profesori
Working languages: Romanian, Russian (optional)

WHAT ACTIVECO CAN OFFER YOU?
Theoretical and practical knowledge on what you can do regarding the climate crisis
Experience of working in a team and with external partners
Capacities and resources for implementing a project (including mentorship and a small grant of 100-500 euro)
A community of other environmental enthusiasts and experts!
We look forward to reading your application and meeting you!
If you have any questions, please get in touch with Elena Tacu, +373 611 458 14
You can also get our latest news on Facebook here: activEco Program.
More info can be found at: www.activeco-program.org
The activEco program is organized by EcoVisio in partnership with Theodor-Heuss-Kolleg (Germany), with financial support from the German Federal Environmental Foundation (DBU) and Sweden.